Keeping your kitchen organized and clutter-free can be a challenging task, especially when it comes to managing kitchen appliances. With a little planning and smart organization techniques, you can transform your kitchen into a functional and efficient space. In this blog post, we'll explore practical tips on how to organize kitchen appliances, both on your counters and within your cabinets, to maximize space and simplify your cooking experience.
Maximizing Space and Efficiency | Clever Storage Solutions for Kitchen Appliances
Assess your appliances
Begin by taking stock of all your kitchen appliances. Sort them into categories such as daily use, occasional use, and rarely used. This step helps you identify which appliances need to be readily accessible and which can be stored away.
Clear the counters
Resist the temptation to clutter your countertops with every appliance you own. Clearing the counters creates a visually appealing and functional workspace. Keep only the appliances you use frequently, like the toaster or coffee maker, within easy reach. Store the rest in cabinets or designated storage areas.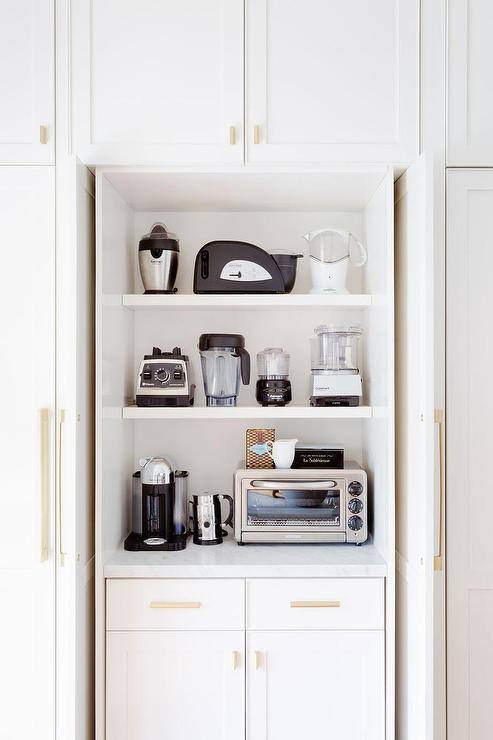 Create appliance zones
Designate specific areas within your kitchen for different types of appliances. For example, create a baking zone where you keep your mixer, baking trays, and measuring tools. Grouping appliances by function not only helps streamline your workflow but also ensures that everything has a designated spot.
Utilize cabinet and drawer space
Make the most of your cabinet and drawer space by utilizing organizers and dividers. Consider using stackable shelves, pull-out drawers, or vertical organizers to optimize storage capacity. Place frequently used appliances in easily accessible cabinets to save time and effort during food preparation.
Label and declutter
Labeling can be a game-changer when it comes to organizing kitchen appliances. Use labels or clear containers to identify the contents of your cabinets or shelves. This makes it easier to locate and retrieve appliances without creating a mess. Additionally, periodically declutter your appliances, donating or selling those you no longer use.
Store smartly
When storing appliances in cabinets, make sure to stack them in a logical and space-efficient manner. Heavy devices should be placed on lower shelves to avoid any risk of accidents. Utilize the vertical space by using hooks or hanging organizers to store smaller appliances, such as blenders or handheld mixers.
Consider dedicated appliance storage
If you have limited cabinet space or own a large number of appliances, consider investing in dedicated storage solutions. Appliance garages, pull-out shelves, or pantry cabinets with built-in appliance stations can keep your appliances neatly tucked away while easily accessible when needed.
Organizing your kitchen appliances can bring a sense of calm and efficiency to your cooking space. By following these tips, you can declutter your countertops, optimize your cabinet space, and create a well-organized kitchen that simplifies your culinary endeavors. Remember, a streamlined kitchen not only enhances functionality but also makes cooking a more enjoyable experience. So, get started today and transform your kitchen into an organized haven for culinary creativity!